It is time to start Knitting or Crocheting items for our dolls! I am so thrilled with the free patterns on line and wanted to share some of them with you.
I found a great website with more free knit patterns, I really love the idea of legwarmers for our dolls and thought I would share the link with all of you.
and it has some really fun outfits that fit 18 inch dolls.
The outfits are modeled on older versions of Our Generation Dolls
There are also some great poncho directions which are great for those starting out for their dolls!
So if you have done some knitting for your Maplelea Doll will you please email me your photos
Bella Bambina Knits
has a great crochet spring doll dress click the link to get started on your own!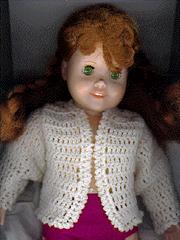 I loved this cardigan and want so much to be able to make this for my dolls.
Click here
for the pattern.
Now is the time to take advantage of learning this timeless skill, if you like me are starting out on your knitting or crochet adventure , ask around to your friends and neighbors and if all else fails check out your local craft store, community center or even Michael's the craft store to get started!
As with all my posts I would love to hear from you so please leave me a comment here or email me at karenmowen@gmail.com